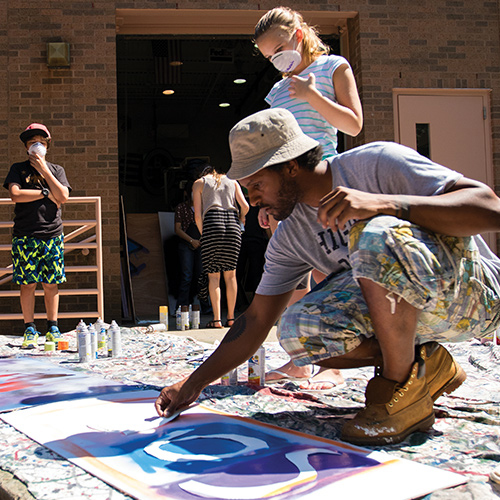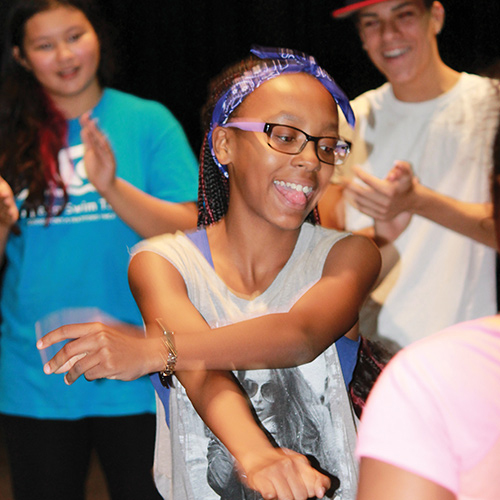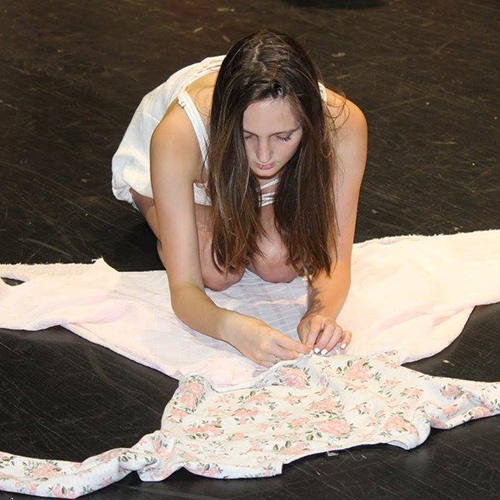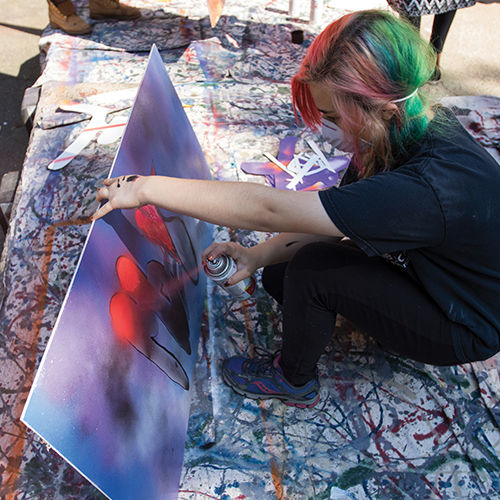 Summer camp Intensives at the Quick are a great platform to delve into exciting art forms! Crash courses in cool exciting subjects led by amazing local artists. Have your kids expand their world and try something new! Each camp session runs daily Monday - Thursday, 2:30 – 4:30 p.m. and are $180 per session.
Fashion Design
From first sketches to wearable finished pieces, participants will learn about color and texture, patternmaking, draping, and sewing to create their own custom garments. Led by a Fashion Institute of Technology (FIT) alumna with industry success, campers learn the ins and outs of fashion design and take their self-expression to the next level.

July 10-13/Ages 10-14.
Instructor: Sooo-z Mastropietro
Hip Hop
Pop, lock, and the feet don't stop! Campers will learn key hip-hop moves and choreograph a dance to be performed at the end of the session – a great confidence builder!

July 17-20/Ages 9 and up.
Instructor: Brian Herman (Double Up Dance Studio)
Graffiti
Explore the world of street art with a professional artist! From graffiti culture to spray paint techniques, campers will learn to tell their story by creating graffiti masterpieces.

July 24-27/Ages 10 and up.
Instructor: T-Kid
Singing for the Stage
Led by local Juilliard trained soprano with a critically renowned debut at Carnegie Hall, campers will discover how to wield their voice to project and perform, exploring song choices in a variety of styles, including musical theatre, opera, standards, pop, cabaret and jazz.

Available two sessions: July 31 – August 3 and August 7-10/Ages 11 and up.
Instructor: Lucia Palmieri
The Summer Camp Intensive Daily Schedule is Monday - Thursday, 2:30-4:30 p.m., and the cost of each session is $180/
Register
Online:
The Art of Fashion
Creating a Narrative Through Painting
Hip Hop
Graffiti
Musical Theatre
To Register in person or by mail, please complete the registration form, registration and cancellation agreement and the photo release form and return them in person or by mail along with the full tuition payment.
To Register by calling the Quick Center Box Office, call (203) 254-4010 or toll-free at 877-ARTS-396.
Quick Center Box Office Hours: Mon-Fri 10 a.m. – 5 p.m. and prior to performances (Summer Hours begin May 23: Mon-Fri 12 p.m. - 4:30 p.m. and prior to performances)
Theatre and Art Explosion! Camp
This one-day intensive takes you behind the stage, from lighting to costumes and all that is required to make the show. Theatre and Art Explosion! teaches campers how to light the stage, design the set, and become the star on the stage. Through guided classes in lighting design, costume and set design, and acting and presentation for the stage, campers will come away ready to make their mark in theatre.
Price:$60


"Bass Camp 2017" - Monday, August 28, 2017, 10 A.M. - 4 P.M.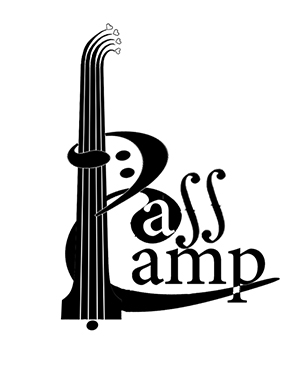 Rising up from the back of the section, the double bass takes center stage in Bass Camp to emit its rich, deep tones.

The caboose of the train line, the anchor of the ship, the buttercream in the brownie: the double bass has so many capabilities. Bass Camp is a unique opportunity to celebrate the bass player of all levels by creating opportunities to play in small ensembles specializing in double bass music of a variety of genres. Get ready for a one-day intensive of double bass mania with some of the area's most active bass players.
Price: BYOB (Bring your own bass), $100 includes t-shirt, music, and folder.
Schedule:
10 a.m. — 10:45 a.m. Group warm up, exercises and technique tips
10:45 a.m. — 11:45 a.m. Smaller groups rehearse set music as an ensemble
12 p.m. — 1:15 p.m. Lunch and viewing of film The Great Double Bass
1:15 p.m.— 2:30 p.m. Regroup for new ensembles
2:30 p.m. — 3:15 p.m. Masterclass
3:15 p.m. — 4 p.m. Return to original ensemble
4 p.m. Performance
Facilitators:
Sooo-z Mastropietro has 30 years playing experience. Once she defected from the violins at age 13, she found herself in the middle of the bass section and quickly embraced the low register as well as the versatility and physicality of this large instrument. She has played with NYU, Greenwich Village Orchestra, a number of pits, and has been actively playing with the American Chamber Orchestra and Civic Orchestra of New Haven.

Rich Zurkowski has provided the low notes for 20+ years in a wide variety of groups spanning all styles of music. He has been fortunate enough to have toured extensively across the U.S. and Europe backing up well known artists such as Martin Sexton and Blues Grammy Award winner Joe Louis Walker. He is also a member of the bands Jen Durkin and the Business and Caravan of Thieves and the American Chamber Orchestra, Fairfield County String Society, and Connecticut Little Symphony.
Questions?
For all questions regarding any program, call the Quick Center Box Office at (203) 254-4010 or toll free at 1-877-ARTS-396, or e-mail at boxoffice@quickcenter.com.