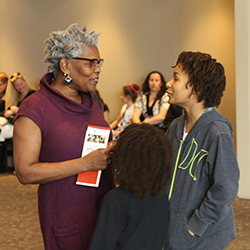 The Quick Center for the Arts serves as the center of the creative, cultural and performing arts community in Fairfield County. Each year, over 40,000 audience members attend and participate in over 400 events.

The staff of the Quick Center is eager to make sure you have the best experience possible while you are with us. Please keep the following items in mind when planning your time with us:
Concessions
The Quick Center offers an array of beverages and treats prior to our events. Come early to a show and enjoy wine, beer, soft drinks, a coffee bar, and snacks. In addition, we offer fresh baked goods prior to our The Met: Live in HD events. Concessions will be open one hour prior to events and during most intermissions. Unless otherwise indicated the night of a performance, no food or drink is allowed in the theatres or gallery.

Please note that generally our concessions area accepts cash only.
The Thomas J. Walsh Art Gallery
Located in the Quick Center, the Walsh Gallery is open to the public Monday thru Friday, 11am - 4pm, and prior to performances. Learn more here.
ATM
A Bank of America ATM is located in the Barone Campus Center located approximately one-quarter mile from the Quick Center by following the sidewalk to the back of the building.
Late seating
In fairness to patrons and performers, House Management honors artist's instructions for appropriate seating.