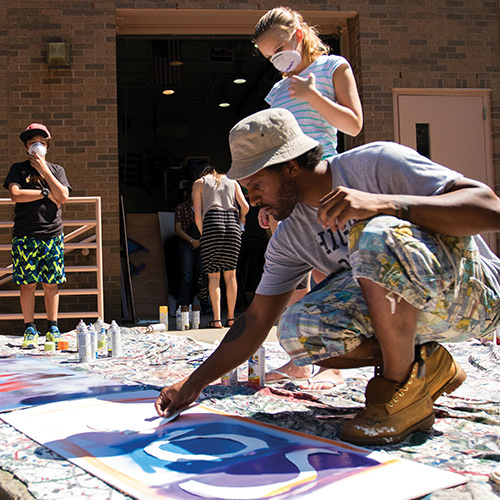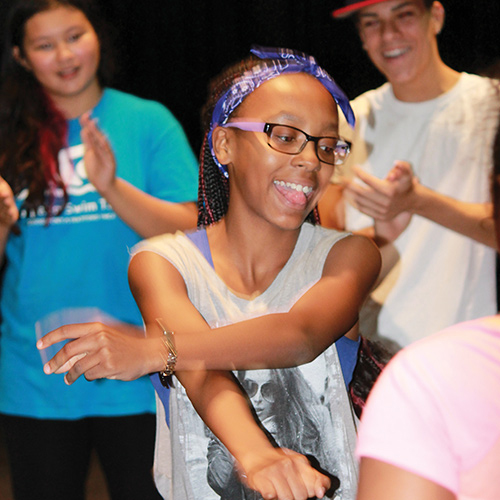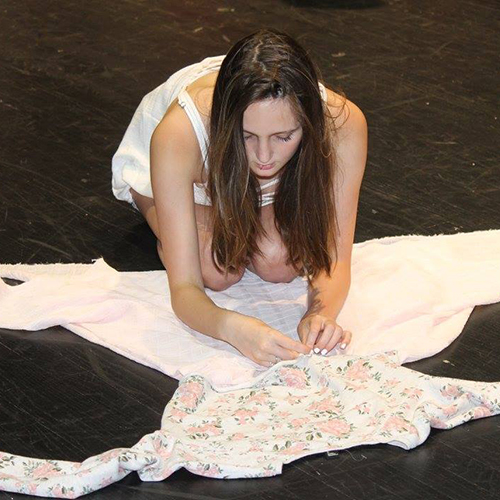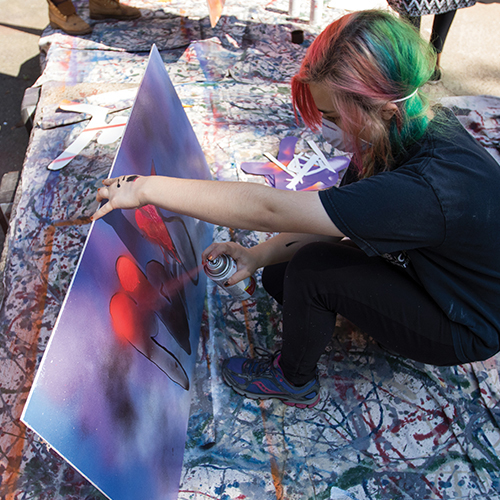 Summer Camp Intensives at the Q are a great platform to delve right into exciting art forms. Four intensive afternoons of costume design, culturally inspired painting, urban dance, street art, and musical theatre skills will be offered. Have your kids expand their world and try something new with our crash courses in cool exciting subjects led by amazing local artists!
New! The Art of Fashion
With experience as an artist and designer, our mixed media artist will lead campers in a journey of color, texture, composition and silhouette to create their own fashionable art/garment piece. After all, fashion is like sculpture; three dimensional – let the creative juices flow. July 11-14/Ages 10-14.
Instructor: A graduate of the Fashion Institute of Technology in New York with a BFA in Fashion Design, Sooo-z Mastropietro parlayed her talents into unfettered territories when she realized she didn't have to settle for one thing. Her early adventures included costume designing for a rock band as well as for local community theater. With an official career that began in the interior design sector, her affirmation came as a special collaboration featured a layout in a "Before and After" segment in Architectural Digest. She then created "Mastropiece" a silk painting business, to create and sell her own accessory and apparel designs that infuse art with utilitarian purpose. Currently, she has been curating themed art shows for various spaces in Fairfield County including the Maritime Garage Gallery and the Mayor's Gallery of Norwalk. She is a true artist and designer.
New! Creating a Narrative Through Painting
With an eye toward cultural history and moments in every day life, campers will use collage, symbols and history to tell their own story on canvas. Our professional artist is sure to nourish a passion for personal roots and share his love of color and brushstrokes with your camper.
July 18-21/Ages 10 and up.
Instructor: Duvian Montoya has always been inspired by his hard working Colombian parents who exposed him to all aspects of the Latin Culture and nourished his passion for art at an early age. After graduating Manhattan's School of Visual Art, Duvian traveled to Europe to study the techniques of the old masters. Through studying Van Gogh's paintings, Duvian developed his own language of color and brush stroke that dominates his work today. His current work exemplifies his cultural history, social issues and his personal observations on everyday life. Duvian's work is actively collected by both public and private institutions, including the city of Norwalk, the city of New Haven, The Mattatuck Museum in Waterbury, CT, General Electric Headquarters in Fairfield, CT, Disney and Gulfstream Worldwide.
Hip Hop
A definite workout, this program led by a professional dancer will keep campers moving and learning to express emotion through this energetic urban dance form. The overwhelming camper feedback from last summer: so much fun and a definite confidence builder!
July 25-28/Ages 9 and up.
Instructor: Brian Herman is the co-owner/director of Double Up Dance Studio of Fairfield and has been a professional dancer, choreographer and instructor for more than a decade. Originally mentored by acclaimed choreographer Tanisha Scott, he has performed in Africa, Asia, the Caribbean and Europe. He has shared the stage and collaborated with prominent international artists such as Alicia Keys, Rick Ross, Swiss Beatz, Chris Brown, Sean Kingston, Rihanna, Lil Wayne and many others. Double Up was featured in Reebok's "Your Move" global marketing campaign and was selected to perform in "A Tribute to Motown" at Carnegie Hall.
Graffiti
Campers will learn about graffiti culture with a local professional artist. Each camper receives a journal to help imagine and inspire creativity. With amazing instruction along with interest in art form from the kids, next comes the spray paint and the masterpieces.
August 1-4/Ages 10 and up.
Instructor: Beginning his career in graffiti and street art, Jahmane (Jermaine West) now works in a wide spectrum of media, including works on canvas, photography, fashion design, murals, screen printing and graphic design. Based in a production studio at Firing Circuits Artists Lofts in Norwalk, he has been internationally displayed and locally exhibited at the Westport Art Center, UBS Stamford, The Center for Contemporary Print, Norwalk Art Under the Bridge, New Haven Jazz on athe Green, Artspace Bridgeport, Cogttage and Gardens Magazine and other galleries and events. He is also the co-founder and head designer at KULTJAH DEZIGNS, an independent clothing label that produces hand-dyed and –crafted apparel.
New! Musical Theatre
Led by local Juilliard trained soprano with a critically renowned debut at Carnegie Hall, campers will discover how to be an engaging, dynamic performer and interpreter as they explore song choices in a variety of styles, including musical theatre, opera, standards, pop, cabaret and jazz. Achieve personal vocal growth with direction from a captivating local talent. August 8-11/Ages 11 and up.
Instructor: As seen on BRAVO TV, ABC, NBC, ESPN and most recently the US OPEN, Lucia Palmieri is not only Professional, unique and captivating, she is a Julliard trained soprano who has sung internationally after her critically renowned debut at Carnegie Hall. She has since performed multiple roles in the New York City area including the 9th Avenue Street Festival, The New York Public Library, and has had leading roles in the Central Park Summer Series since 2006. The New York Times and the Italian Voice gave her rave reviews and those that work with her say this Westport, CT born Singer is easy to work with, is creative with ideas that make events special and has a voice that would make angels weep.
Through the launch of our Arts Education and Outreach Fund, you can help us impact the lives of underserved youth by sponsoring a child's summer camp experience. A $150 donation will provide a child with one of our Summer Camp Intensive experiences. A $250 donation will provide a child with a Missoula Theatre Camp experience. Thank you to our patrons who provided financial support in 2015 thereby giving the gift of arts education to community youth in need. Join us in making this summer special once again! Call the Quick Center Box Office at (203)-254-4010 or toll free at 1-877-ARTS-396.
Daily Schedule
Monday - Thursday, 2:30-4:30 p.m.
Register
Online:
The Art of Fashion
Creating a Narrative Through Painting
Hip Hop
Graffiti
Musical Theatre
To Register in person or by mail, please complete the registration form, registration and cancellation agreement and the photo release form and return them in person or by mail along with the full tuition payment.
Tuition
$180 per session
Phone (203) 254-4010 or toll-free at 877-ARTS-396
At the Quick Center Box Office: Mon-Fri 10 a.m. – 5 p.m. and prior to performances (Summer Hours begin May 23: Mon-Fri 12 p.m. - 4:30 p.m. and prior to performances)
Questions?
For all questions regarding the program, call the Quick Center Box Office at (203) 254-4010 or toll free at 1-877-ARTS-396, or e-mail at boxoffice@quickcenter.com.