A Gun Show is an exploration of issues such as race, economic inequality, public safety and constitutional rights through music, text and movement. The works origins started as a way for the artists to process their emotions after the unfathomable school shootings in Newtown, CT but has since grown into a much larger collaborative process and conversation – What is it about our collective psyche that fastens so tightly to guns?

With its innovative multi-genre original productions, sensational interpretations of modern classics, and "exhilarating blend of precision and anarchy, rigor and bedlam" (The New Yorker), Sō Percussion redefines the scope of the modern percussion ensemble. For over 15 years, this ensemble, formed by Eric Beach, Josh Quillen, Adam Sliwinski, and Jason Treuting, has engaged in creative collaborations and released 16 albums.

Get To Know The Artists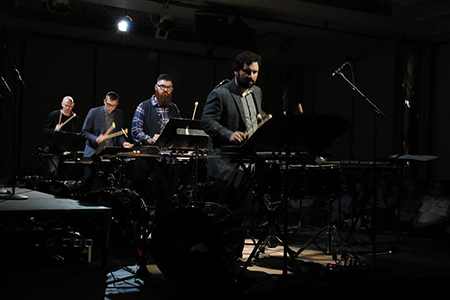 SO Percussion has recently completed a four-concert residency at Lincoln Center Festival, which included an epic performance of Steve Reich's Drumming followed by Trilogy, a three-evening concert retrospective of music that has shaped the quartet's career.

2016 has thus far been one of the most remarkable years in the quartet's 15-year history. Prior to their Lincoln Center performances, SO Percussion made their fifth Carnegie Hall appearance in February performing with special guests Shara Nova and Glenn Kotche. In December they return to Brooklyn Academy of Music's Next Wave Festival with their all-new evening-length work, A Gun Show, a multidimensional meditation on guns in America.
Watch Sō Percussion Back Stage at the Lincoln Center
The New York Times has closely followed their 15th anniversary season with a series of reviews and mentions:


"Entertaining, virtuosic, occasionally lyrical, but most often joyfully loud" Corinna da Fonseca-Wollheim, February 16, 2016

"Beyond virtuosic, So Percussion really has no need to prove its technical bona fides." Zachary Woolfe, July 21, 2016

"To hear these players, with their clarity and vivacity, in Mr. Reich's music was like staring at a Rothko canvas" David Allen, July 22, 2016

"The players...seem to have developed telepathic powers of communication." Corinna da Fonseca-Wollheim, August 1, 2016
So Percussion Fights Tragedy With Empathy


"Sliwinski writes, in a book accompanying the show, that this "disorienting" meter never allows listeners' ears to adjust — unlike our quick acceptance of years of similarly grim numbers. To underline the point, performers periodically read from a live feed of gunshots reported around the country during the show; by the end of each hour-long performance, there are dozens." – excerpt from "So Percussion Fights Tragedy with Empathy", The Village Voice, November 23, 2016
So Percussion At Quick Center In Fairfield